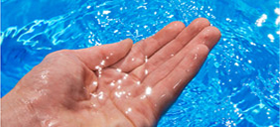 News

Available to pool stores and builders in Australia from winter 2015, the Maytronics Dolphin E10 has been added to the Dolphin robotic pool cleaner range. The entry-level cleaner has a large top-access filter that is easy to open and clean. … Continue reading →
2013 sees Maytronics celebrate 30 years as the worldwide premier robot pool cleaning company.
Tom Stanley of Redlands Pool Service sought the help of Maytronics to provide the most efficient solution to cleaning an artificial lake with 99 lifelike animals lapping at the water's edge, part of the Gai Guo-Qiang: Falling Back to Earth … Continue reading →
The unofficial opening of the new JD Pools factory in Thaland and official launch of the partnership between JD Pools and Australian company Maytronics. A night showcasing the best in Thai culture and presentation.
Developers of the Poseidon computer-aided drowning detection system say they hope more councils will adopt their program after it was used to help rescue a man at the Blacktown Leisure Centre at Stanhope Gardens. "This boy appeared to be in … Continue reading →
Maytronics Australia is delighted to announce that the Victorian warehouse has now moved and upgraded to a larger facility, in Braeside, Melbourne. "Customer Service is a critical part of our business model and wherever possible we look to implement changes … Continue reading →
Maytronics is delighted to announce the launch of EcoClear glass recycled media. This new product release adds to the Maytronics focused product stable which also includes exclusive distribution of Dolphin Robotic pool cleaners, AquaCal Heat Pumps & Blue I controllers. … Continue reading →
"THE GAME-CHANGER" The Dolphin Hybrid Robotic Suction Pool Cleaner, by Maytronics, has won the highly coveted INNOVATION AWARD at Piscine 2012 in Lyon, France. The Hybrid was competing against 100 other entrants from Pool Companies, at Lyon, one of the … Continue reading →